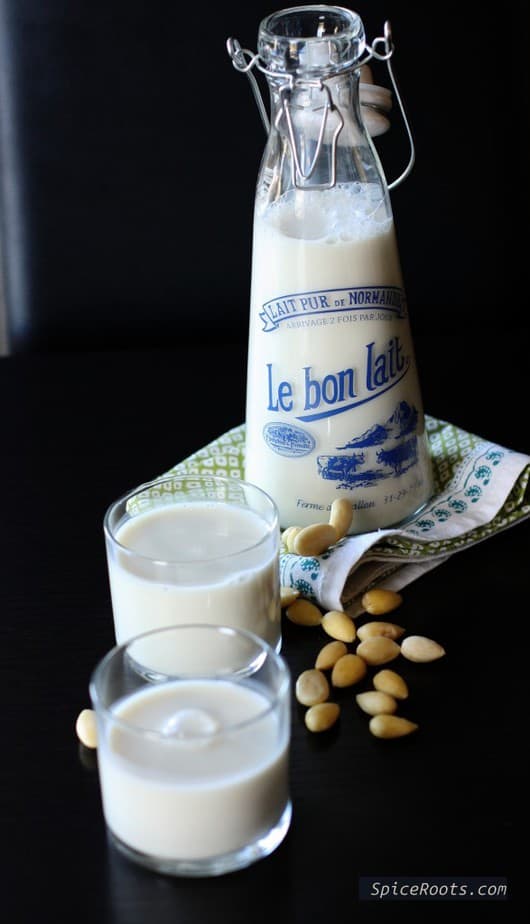 For the world, Almonds are a healthy & tasty nut/seed.  For me they are a thing of pride, joy and memories. As a kid, I had a difficult time deciding if I wanted the long hard winter to end. While the end of winter meant that the dreary school will reopen its gates and herd me back in, it also meant the Almond trees will soon blossom and set my mind free. And it meant a picnic in the almond orchards would soon happen and I could just lay on the flowers and breathe their essence in and let myself float.
While the spring brought in many beautiful sights and fragrance, the summer was the time to enjoy fruits. Yes you heard that right. It wasn't the fall, when the world harvests the nature's bounty. For us kids, it was the summer. Eat fruits off the trees, young unripe apples, fresh almonds along with the shell, tart apricots. Where was the fun in eating a dried walnut or almond. Or a sweet apple.  Everyone did that and what everyone does is not an adventure!
And did we get into trouble for doing all that?  Oh yes! All the time.  The caretakers on the orchards would chase us away and never be able to catch us. Or so we thought in our tiny kid brains. Now I know that they just did not want to catch us, just have a little fun chasing a rowdy bunch of kids and keep them from making too much trouble.
The green almond was my favorite thing to eat. When it was early summer, my parents would bring in batches of green almonds for us to enjoy before their shells hardened. It was my favorite time of the year. Munching on the whole green almond is a joy like no other. It is deeply satisfying. Deeply.
To get the same flavor as a fresh from tree nut, I always soak almonds at night and peel then before eating.  It is one of my guilty pleasures.  And sometimes when I am feeling really nice towards myself, I make a batch of almond milk to drink.  Once you have tasted home made almond milk, you may never go back to buying it from the store.  This thing will spoil you for ever.
For this weeks power food blog group, we have the delicious Almonds, if you had not already guessed it.  So I just mixed me a batch of Almond milk – homemade "from start to finish".
Almond Milk – homemade
Ingredients
1

C

Almonds

shelled

3

C

Water plus more for soaking

1/2

tsp

Vanilla essence

optional

Nut Milk extracting bag

optional
Instructions
Day 1
Soak the almonds in twice their volume of water. They should be completely submerged and then some more.

Keep in the refrigerator for at least 12 hours.
Day 2
Peel the almonds ( remove the brown cover)

Add in into a wet grinding jar, add in 3 cups water and blend until it froths up on top and the mixture looks smooth.

Add in the vanilla essence if using and blend again.

Put the nut milk into the bag to strain into a bowl.

Squeeze out as much milk as possible and lay out the nut meal to dry on a plate ( to be used in cakes and cookies)

Drink up some and store some.
38 Power Foods blog group  focuses on one ingredient each week taking inspiration from the book ; Power Foods: 150 Delicious Recipes with the 38 Healthiest Ingredients from the editors of the whole living magazine. Each week we all  come up with recipes, stories, articles to encourage eating nourishing food.  This week the following bloggers are posting along with me : 
Jeanette at jeanetteshealthyliving ; Martha at Simply Nourished Living ; Mireya at Myhealthyeatinghabits ; Alyce at More time at the table ;