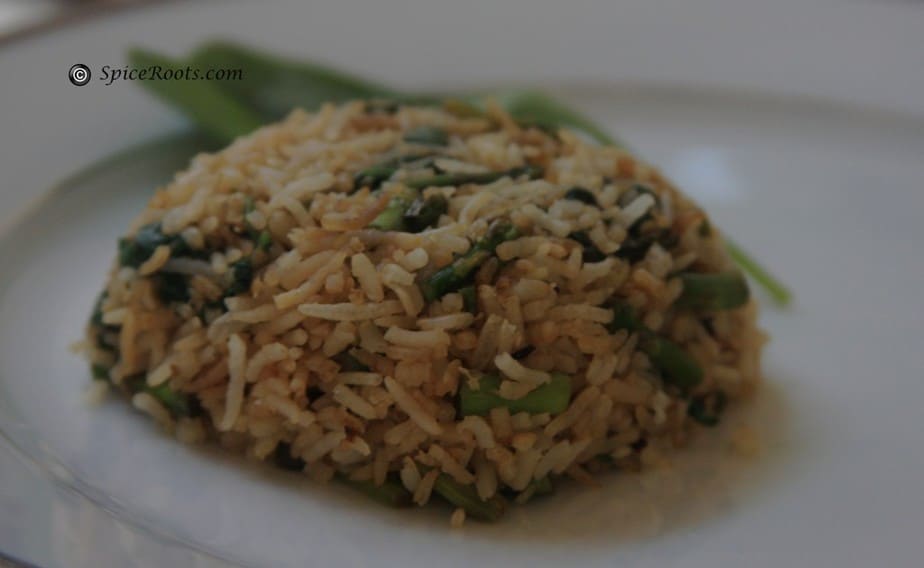 Cooked leftover rice is always a great thing, so I always make extra whenever I can. It freezes well, stays great in the refrigerator for a couple of days and is versatile. So when I had some thin sprigs of asparagus left over from another dish, and some rice from a couple of days ago, I thought why not make something with all green vegetables.
I used spinach, green asparagus, green onions, green garlic and green Thai chilies and a bit of soy sauce and some dark sesame oil. The flavors in this dish are fresh yet earthy and nutty because of the sesame oil. I used leftover basmati rice for this, but I am going to try using short grain brown rice the next time.
Ingredients
1C boiled white rice
¼ C chopped asparagus
¼ C sliced green onions
1C baby spinach
1Tsp dark sesame oil
1tsp dark soy sauce
1Tbs chopped green garlic
1 green Thai chili chopped very fine
A dash of salt
Instructions
Heat a wok on medium heat setting. Once hot, add the oil and immediately add the asparagus.
Stir and cook and allow to sizzle for a minute or so, until the asparagus is slightly cooked. Now add in the garlic, cook for a minute and add the spinach.
Allow the spinach to slightly wilt, add the green onions, salt, soy sauce, chili and mix it all in.
Now add in the rice, continue to stir and mix until all the ingredients come together.
Plate and serve with a soy sauce dipping or pack as a nice work lunch
Notes

The total cook time is based on the assumption that you have leftover cooked rice.

Add toasted sesame seeds for a nutty flavor.

https://www.spiceroots.com/955/
you can  added some toasted sesame seeds as a garnish and some extra nutty crunchy munchy flavor!
(Visited 37 times, 1 visits today)