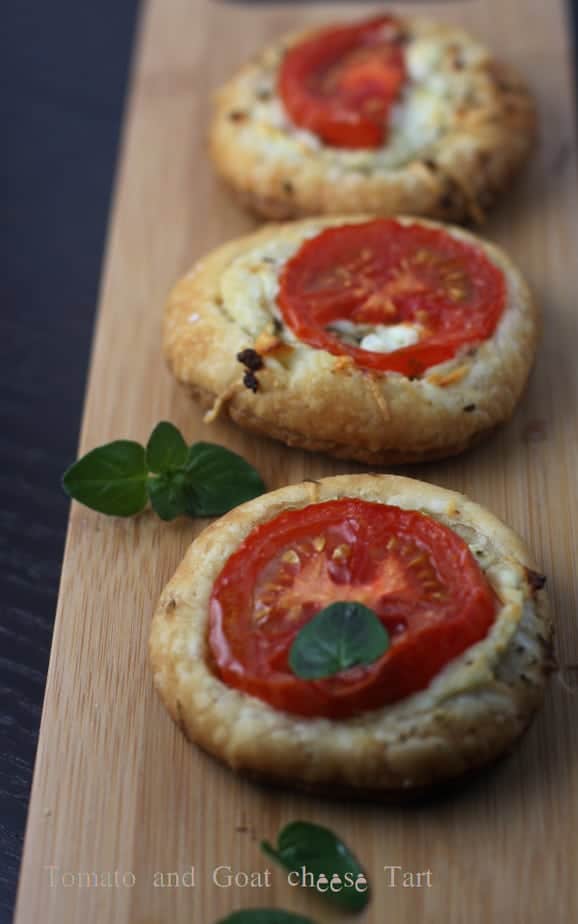 When I said that Ina Garten rekindled my passion for cooking in this first Ina Friday Post  I didn't mention that a teeny tiny reason was that she showed me recipes that were quick and easy and  yet so delicious.  Take this Tomato and Goat cheese tart for instance.  It's simple easy and way too delicious. I have made it a number of times. Here is Ina's recipe  and it is a hit each time I make it for guests.  But for today, my daughter made one that she likes.  She wanted to bake something ( blame it on dog days of summer ) and I asked her if she would like to bake this. So out went the onions and the wine and in came the easier method of cutting rounds with a cookie cutter.  We used fresh herbs from our kitchen garden and this beautiful tart was our picnic snack.
I love being part of this fantastic group of bloggers who love Ina as much I do.  To see what rest of the Ina fans are cooking in August , do visit these great blogs –
More Time at the Table  , Moveable Feasts , My Picadillo,  My Catholic Kitchen , There and Back Again
Bizzy Bakes, Therockymountainwoman,  Simple Nourished Living , Lady8Home , Just A Girl from aamchi Mumbai, Pantry Revisited, Ria's Collection
Tomato and Goat Cheese Tart – Ina Garten Fridays
Ingredients
1

puff pastry sheet

olive oil

a pinch of garlic salt

Salt to taste

ground pepper to taste

1

tsp

oregano leaves

2

tablespoons

freshly grated Parmesan

2

ounces

garlic-and-herb goat cheese

1

large tomato

cut into 4 (1/4-inch-thick) slices
Instructions
Unfold a sheet of puff pastry on a lightly floured surface and roll it lightly to an 11 by 11-inch square.

Using a cookie cutter, cut out circles of pastry dough.

Place the pastry circles on a sheet pan lined with parchment paper and refrigerate until ready to use.

Preheat the oven to 425 degrees F.

Using a sharp paring knife, score a 1/4-inch-wide border around each pastry circle. Prick the pastry inside the score lines with the tines of a fork and sprinkle a tablespoon of grated Parmesan on each round, staying inside the scored border.

Crumble a little goat cheese on top of the Parmesan. Add in a bit of oregano

Place a slice of tomato in the center of each tart. Brush the tomato lightly with olive oil and sprinkle with garlic salt, salt, and pepper.

Bake for 15 minutes or until the pastry is golden brown.
');
// ]]>