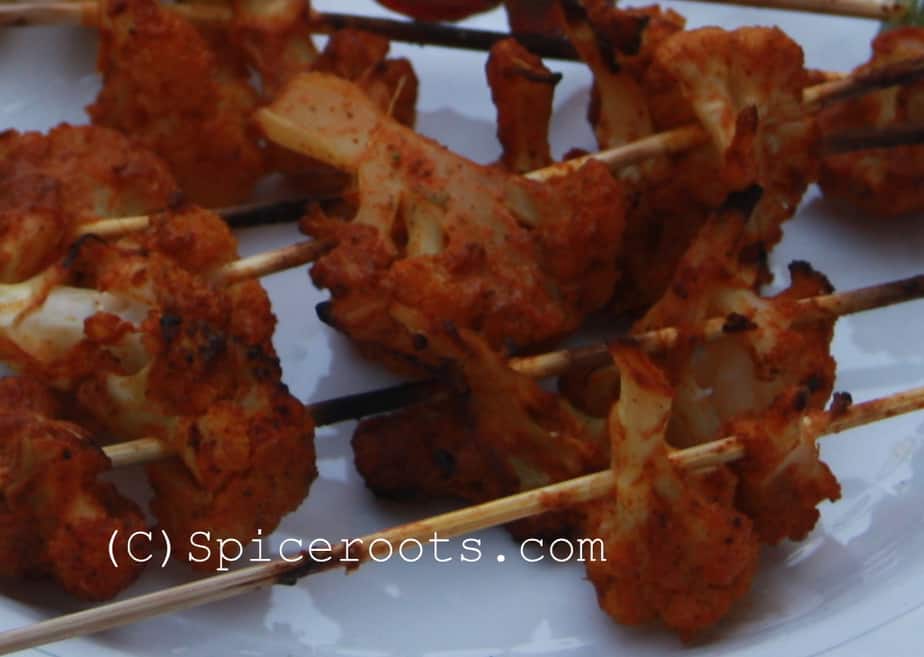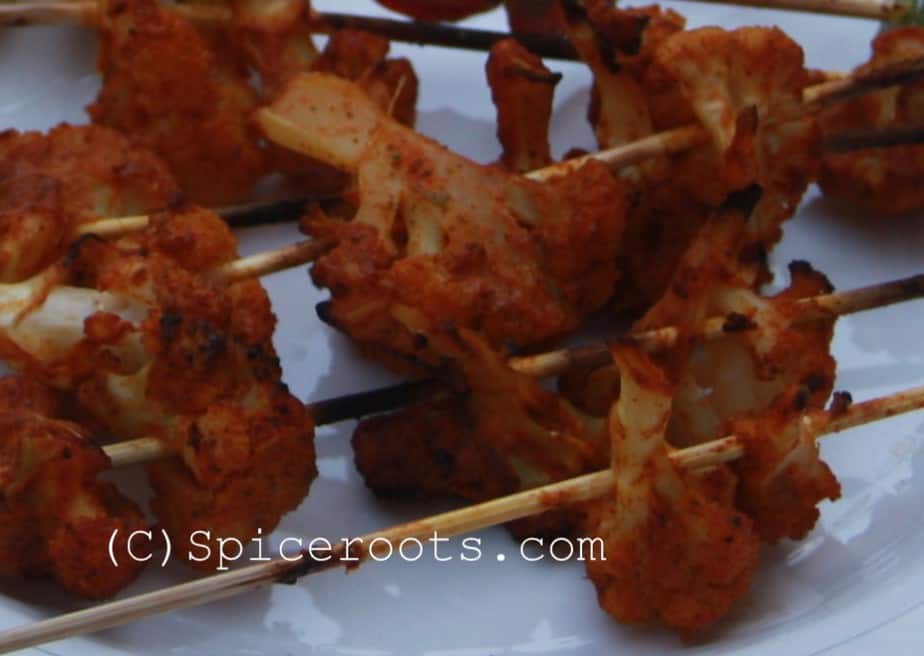 Plan:
1 Cauliflower ; medium size cut into medium size florets
1/4 C yogurt
1/4 tsp Ginger & Garlic paste
1/2 tsp coriander powder
1/2 tsp cumin powder
1 tsp chilli powder
1 tsp chaat masala [ store bought works too]
1 tsp  Lemon juice
1/2 tsp Salt or as per taste
Advance Prep: Soak some bamboo skewers in water for a few hours
Procedure:
Steam the cauliflower florets to an Al Dante ; they should be crisp and cooked and should offer some resistance to the bite.
Mix the yogurt with Chilli,coriander & cumin powder . Add  salt, ginger garlic paste and the lemon juice and mix well.
Now add the cooled florets of the cauliflower in to the mix
Transfer to a zip-lock bag, give it a good shake and refrigerate for 2- 3 hours.
An hour before you are ready to grill, Thread the florets onto bamboo skewers; saving the marinade in a small bowl. Do not refrigerate again.
Fire up the grill and cook them on medium high . Brush on the remaining marinade once a while to help keep the cauliflower moist. Grill until you see the ends slightly charring.
Alternately preheat oven to 370*F and place gobi skewers directly on the rack. Cook for 15 min, then turn and cook for 10 minutes. Now place the oven on broil and cook for 1 min each side.
Plate and sprinkle some chaat masala on top while they are hot. Serve with lemon wedges and mint & coriander chutney.
Notes:
These timings and temperature are based on my own oven setting. Please make adjustments as per your own oven.