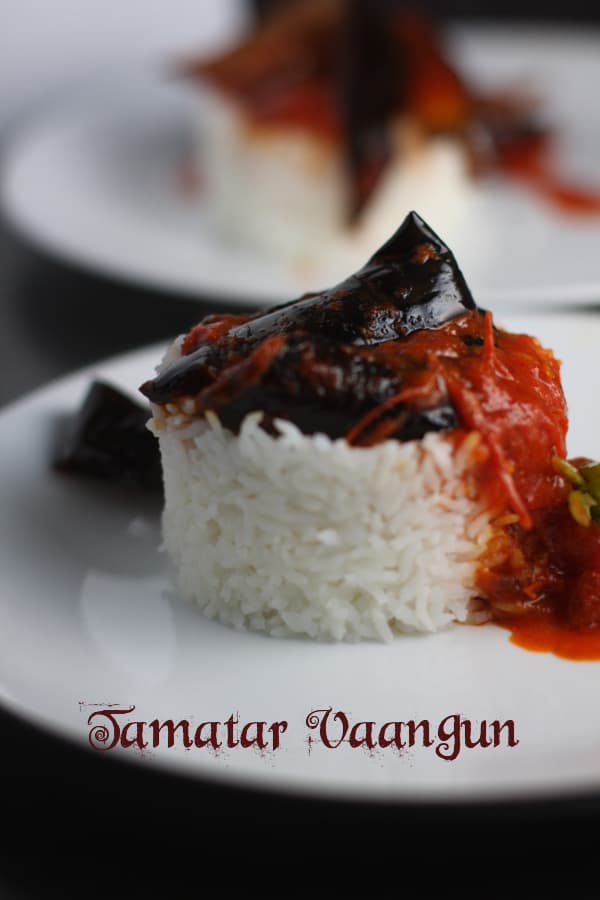 Paired with plain white boiled rice, this fiery looking Eggplants in tomato sauce is my favorite Kashmiri egg plant dish.  Tangy, spicy and not at all heavy, despite the rigorous frying of the eggplants. How? The trick is to fry the eggplants at just the right temperature.  Too hot and they will burn on the outside, too low and they will absorb all the oil.
So what's the right temperature? About 350*F .  You may want to use a thermometer or simply do what I do. Add a tiny piece of the eggplant into the oil. If it sinks, the oil is not ready. If it fries and comes up fast, the oil is way too hot. What you are looking for is a piece of eggplant, frying up and reaching the top slow and steady. Confused? Well use the thermometer 🙂
I know the word frying daunts some of us who "need to" Have to" and "Must" watch what we eat.  For those of us who need to do that, you can simply grill the eggplants and follow the same recipe.