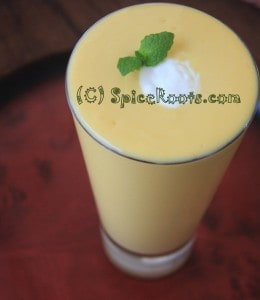 This recipe is dedicated to my friend Jen, who insanely loves  Indian food.  It always makes me happy to cook a meal for her, because she savors every bite and takes her time to enjoy the ingredients.
When I explained the process of this recipe to Jen, she could not believe it was this simple and was amazed that the restaurants charged astronomical prices for this easy to make drink. I regret not being to able to make it  when she visited  – so here's to you Jen and to all you mango lovers and all you lassi lovers and all you "mango lassi " lovers.
Equipment Needed:
A hand blender or a whisk
Plan:
2 cups plain yogurt [ use low fat , vanilla or regular ]
1 cup Alfonso mango pulp
2 tbs sugar
1 cup water
Method:
1) Whisk/blend the yogurt and sugar until smooth
2) Add in the mango pulp and mix
3) gradually add the water and blend it all.
You may add more or less water to acquire the consistency you like. This recipe makes 4 glasses of creamy lassi.
Pour into glasses, decorate with a mint sprig and some yogurt spooned on top. Serve with a smile.
Notes:
You may end up buying a whole can of mango pulp. You can use the rest of the pulp for making mango souffles, mango smoothie , mango custard or simply eat the thing with a spoon.