Print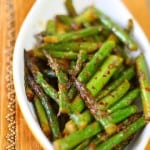 Stir Fry Asparagus Indian style
If you do not have the aleppo pepper flakes, you can use cayenne and sweet paprika mix. But it is best to use the Aleppo peppers for this recipe. It brings out the flavors without being too overpowering. And adds a great aftertaste.
Mix lemon juice and chaat masala and mix in the asparagus

heat oil in a pan and stir fry the asparagus just until done

sprinkle salt and the Aleppo pepper.

Mix to coat

Serve as an appetizer or with dal and rice as a side.