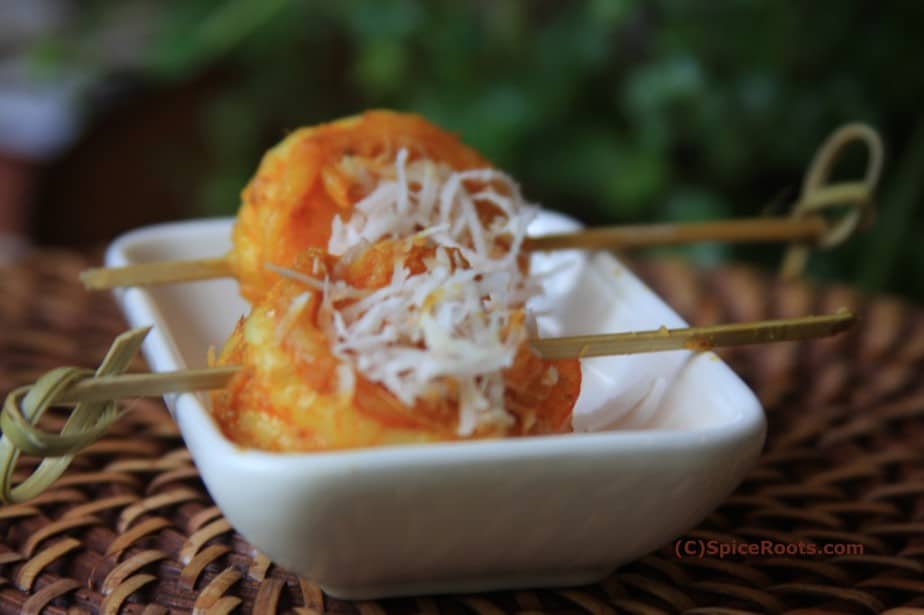 Since we are already sharing the Love of sea food, I thought it would be great to sign off with a simple yet tasty shrimp dish. It's a twist on shrimp melody (recipe coming soon) and goes well with red wine/ beer if you are entertaining. It's one of those dishes where you do not have to follow a recipe. Put in things together and voilà  !
Plan:
1                              pound shrimp
1 Tbs                      chopped garlic [use more if you like]
2 Tbs                      prawn (shrimp) paste (available at Asian stores)
2 Tbs                      chopped lemon grass
¼ Tsp                     turmeric powder
½ tsp                     chilli Powder
½ tsp                     chilli flakes (optional – this is for more heat)
1 Tbs                      vinegar [white or rice]
2 – 3 Tbs               freshly Grated coconut (optional)
1 Tbs                      extra virgin coconut oil/ any other cooking oil
Salt                         to taste
A few bamboo skewers
Procedure:
Peel and devein the shrimp. here is how
Add turmeric, chilli powder and a bit of salt to the shrimp and keep aside.
Heat a pan on medium heat. Once hot add the coconut oil.
Now add the garlic, stir and cook until fragrant. Add the shrimp paste, lemon grass and cook for a minute or so.
Add in the shrimp and cook for two minutes.
Finally add in the vinegar and the chilli flakes ( if using)  let the shrimp get coated thoroughly with all the ingredients.
Arrange on the skewers, garnish with the coconut.
(Visited 37 times, 1 visits today)