It's 11 p.m. My bread dough is getting its final rise. It is then going to be baked into the Leopard Print Bread. Whether it bakes or not is another story. Living at altitude teaches you to expect the unexpected. And "if" it bakes well, it will be another hour before it can be sliced to showcase the cool leopard print.
Now, I am usually a last minute baker but this time I was not. I had baked my bread a while ago – in fact as soon as Shireen announced her theme for Bread Bakers, I knew I wanted to make the leopard print bread. And I got to work and even showed her a sneak peek of the bread while chatting.
So why am I baking the bread a few hours before scheduled posting! I call it getting old. You see when I made the bread the first time, I took a quick snap shot of it on my phone. I decided to take photos to later in the day and wrapped the bread and went out to finish my chores. I was really pleased with the bread. It looked great and tasted amazing. After I got back, I simply offered the bread as a snack to my teen and her friends who were delighted with the bread.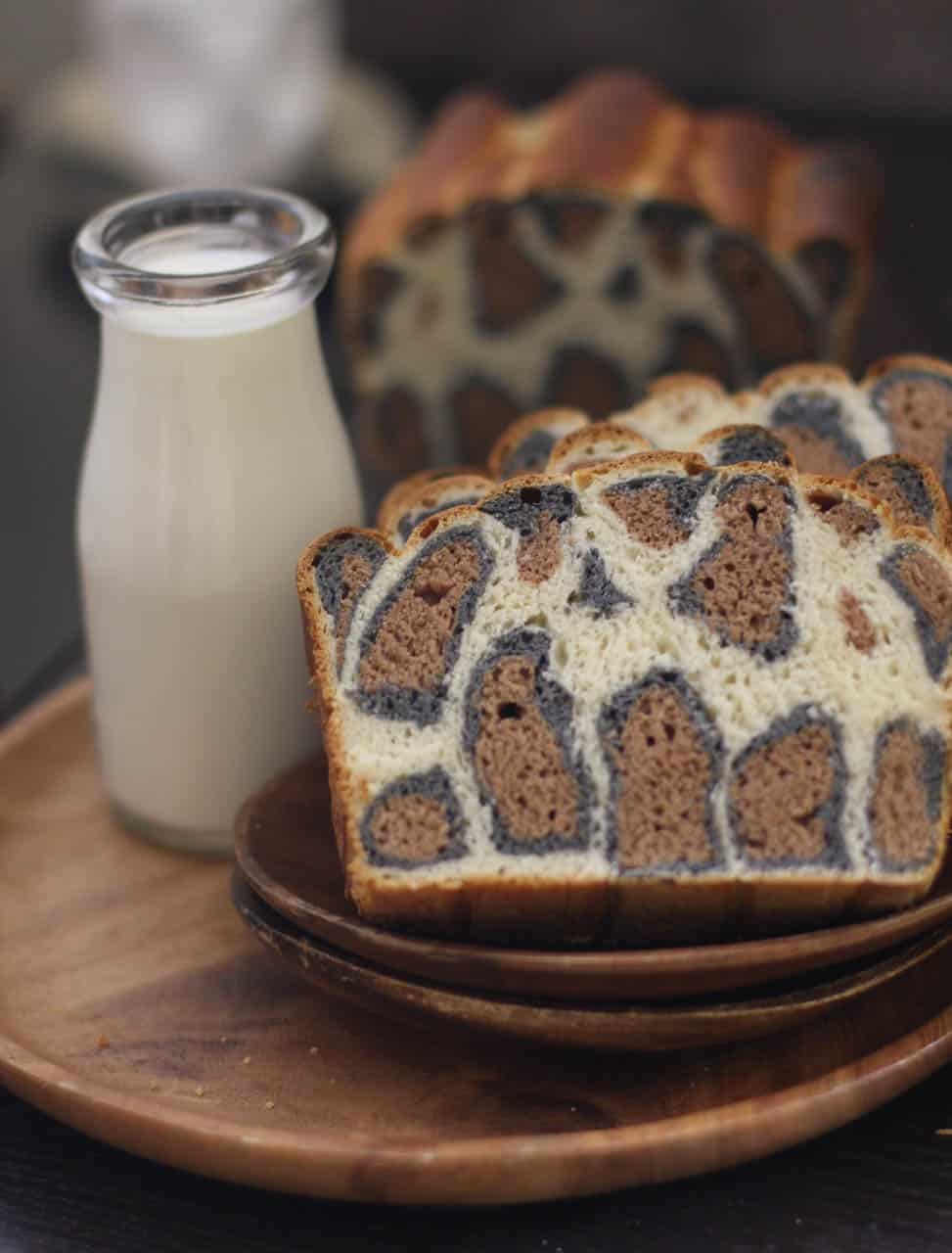 It was only after they finished the last crumb that I remembered "later" part of my work I still needed to do! I took no good Photos!
So now you know why the bread is yet to be baked and if I don't have any decent photos to post by the time this goes live you know who to blame – your's truly!
I thought I should share this, just in case you all think a food blogger's life is all glamour and glory! We have more than a fair share of downs than ups but the love of food keeps us going!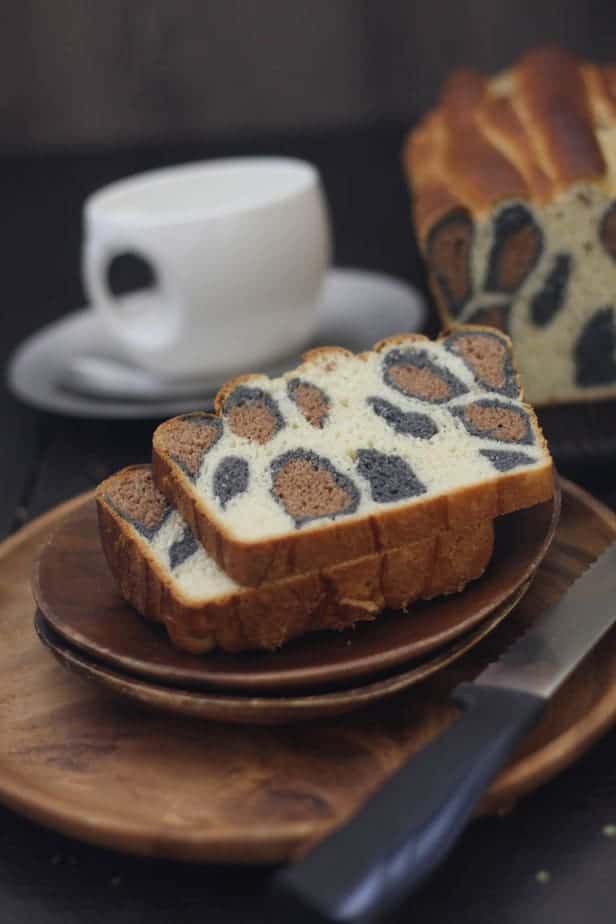 PS :- It's now 2 am and I am finally ready to publish photos! And hope to catch a few winks before I go meet my friend Abbe who invited me to bake Hamantaschen with her!
That brings me to this month's theme with the Bread Bakers. It is sinful, sexy, smooth, rich, dark handsome chocolate! In any form! Oh what a Deee*li*cious theme offered by Shireen at Ruchik Randhap. I was inspired to make the Leopard print bread from this post on  Coco e Baunilha blog.
Let's check what the bread bakers have come up with for this theme: –
Breads with Cocoa, Cacao or Carob in any form

Breads with Cocoa, Cacao or Carob in any form
#BreadBakers is a group of bread loving bakers who get together once a month to bake bread with a common ingredient or theme. Follow our Pinterest board right here. Links are also updated each month on this home page.
We take turns hosting each month and choosing the theme/ingredient.
If you are a food blogger and would like to join us, just send Stacy an email with your blog URL to foodlustpeoplelove@gmail.com.
Leopard Print Bread
Leopard Print Bread #Bread Bakers
Ingredients
550

bread flour

50

gm sugar

1.5

tsp

instant yeast

1

tsp

salt

1.5

C

warm milk

118 *F

2

tbs

unsalted butter melted

1

Tbs

cocoa powder

2

tsp

milk

2

capsules activated charcoal powder

1

tsp

milk
Instructions
Put bread flour, sugar, salt and yeast together in a stand mixer attached with a dough hook. Stir to combine then add milk and knead until dough comes together. Add butter to the dough and knead until the dough is soft and shiny. About 6 minutes to 8 minutes.

Weigh the dough. Put aside 500 gms of plain dough in a covered bowl . Let it proof for an hour or until double in size.

Now divide the rest of the dough into two portions. You should roughly have about 250 gms of dough for each portion.

To one portion add the cocoa powder with milk and knead until the cocoa mixes in completely and the dough looks chocolatey in color.

Put in a covered bowl to proof.

To the other portion that's left, add the charcoal and the milk and knead until evenly dark. Put in a covered bowl to proof.

When all the dough has risen, gently knead each of the dough back and then divide each color as follows:-

For chocolate dough, divide into 38gmx2 (large) and 25gmx5 (small) balls...adjust to the final weight of the dough..

For bamboo charcoal dough, divide into 36gmx2 (large) and 23gmx5 (small) balls... adjust to the final weight of the dough...

Plain dough :- divide into balls of 2 balls of 100gm and 5 balls of 55 gms

Chocolate dough :- divide into 2 balls of 38gm and 5 balls of 25gm

Charcoal Dough :- divide into 2 balls of 38 gms and 5 balls of 25 gms

for all the doughs adjust weight of the dough balls as per final weight of the dough.

Using a rolling pin, roll out the cocoa dough balls staring with the large ones. Roll into oval shape. Now roll it like you would a swiss roll. Place under a damp kitchen cloth to ensure it doesn't dry out. Repeat for all the chocolate dough balls.

Next roll the bamboo charcoal dough balls starting with the large ones. Roll into an oval shape, large enough to cover the large cocoa dough roll. Place the coco roll inside the charcoal oval and close the charcoal dough, sealing the chocolate dough inside. Repeat for all the charcoal dough.

Finally use the plain dough balls in the same way, sealing in the charcoal ones inside the plain dough. Now roll into a rope that is twice the size of the loaf pan. Cut into two and then repeat for rest of the dough.

Grease your loaf pan and arrange the dough ropes into the pan. Cover and let it rise for about an hour. Then bake in a pre heated oven at 375* F for 30 minutes. ( 350* F at sea level for 35 minutes)