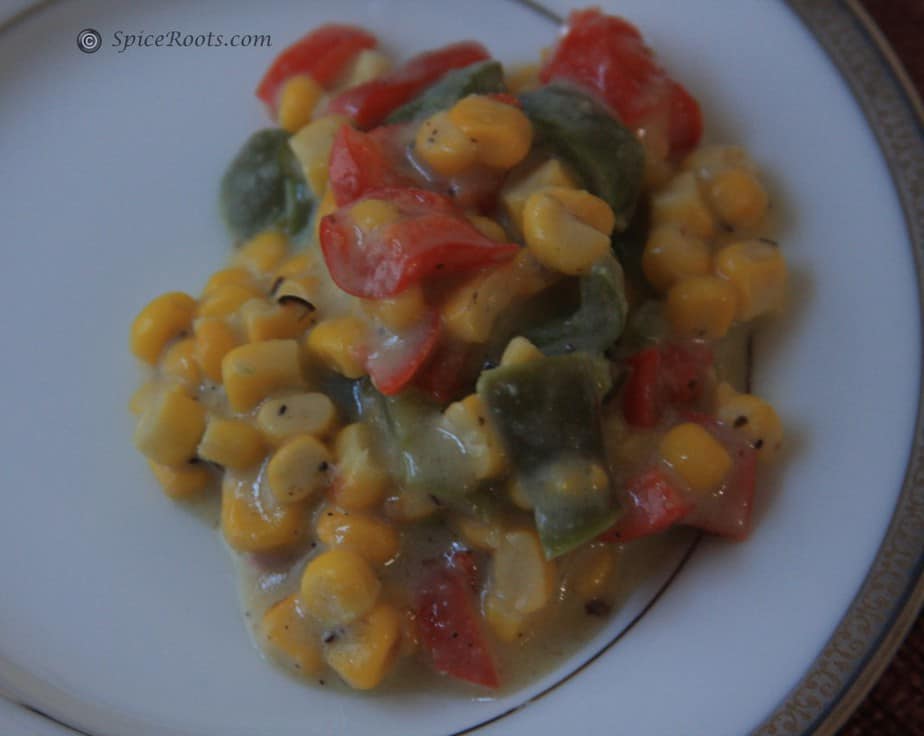 Colorful Bell peppers in the local farmer's market mesmerize the senses.  Not only do they brighten any dish with their vibrant festive colors of Red and green and yellow, and orange, they also brighten you from within.   How?  Learn more here.
Bell peppers or capsicums / simla mirch as they are called in India are made along with paneer, chicken, potatoes as a main dish. They  are also stuffed with various fillings, pan roasted to make a filling breakfast dish or  a side dish.  They make a great addition to any Indian Chinese dish as well. (Indian Chinese is Chinese food with an Indian twist. It's not your regular Chinese food. It's addictive and so very unique, but I digress. )
The little tang of the pepper and the sweetness of corn in the featured dish is a match made in 'taste heaven'. Serve it with freshly made roti and a cup of Dal for that super nutritious lunch or dinner.
This dish has been adapted from a recipe by Tarla Dalal,  [ The  complete Gujarati cook book ]. My Significant other has reservations about calling this a Gujarati dish, but he loves it and often requests that it be made. The original recipe is available here .
1 cup corn kernels ( fresh or frozen)
2 bell peppers diced
½ tsp black cumin (shahi zeera)
½ in pc of ginger
2  thai green chillies
1 Tbs flour ( I use whole wheat)
1 C milk
½ cup water
½ tsp black pepper powder
1 tsp sugar
Salt to taste
1/2 tsp oil
Procedure :
Pre planning:
1 )Make a paste of the green chilies and ginger in a food pro. Alternately grate the ginger on a micro plane grater and chop the green chillies very very fine.
2 )In a non stick pan, dry roast the flour on a low heat for about 2 minutes or until the raw flour smell vanishes. We don't need to brown the flour as we want to make a light roux that thickens the gravy.  Gradually add the milk, while stirring the mixture to form a roux. Add in the salt. Mix and keep the roux warm.
Main cooking :
Heat oil in another pan, add the bell peppers. stir and cook for a minute.
Add in the corn, ginger and green chilli paste and stir everything together.
Cover and cook for 3- 4 minutes on medium heat.
Add in the roux and the water and bring it to a boil. Add the sugar, black pepper and allow it to cook until the gravy thickens to your liking.
(Visited 36 times, 1 visits today)