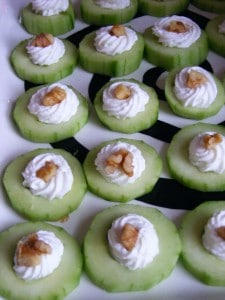 These cool cukes always are the first ones to vanish from the party trays I set up. Cool as a cucumber was invented for this dish, I would like to think. They can be made well in advance, look gorgeous and can be put together fast – leaving you cool as a cucumber to enjoy the party.
I was inspired to develop this recipe when I ate cucumber cups with lobster, a fairly common appetizer among my circle of friends. I wanted to make a vegetarian dish, using the same concept but with some zing to it. Voila`
Plan:
1 English cucumber, peeled
1/2  C  hung yogurt
some walnuts broken into pieces
3 TBs Mint and cilantro chutney
Special Equipment: Melon Baller, pastry bag with a star tip
Procedure :
Cut the cucumbers in half inch circular pieces.
Scoop out the center with the melon baller, leaving the base and sides intact. This should make a little cup within the cuke slices.
Fill in the hung yogurt inside the pastry bag
Fill in the scooped out center of the cucumber slices with the mint cilantro chutney
Pipe the hung yogurt on to the slices
garnish with a piece of walnut.
Variation: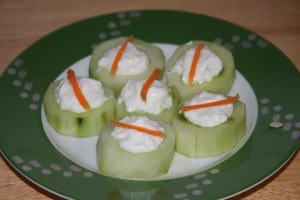 In this variation I used store bought greek yougurt, and simply filled it into the cucumber cups. Notice, the cucumber slices are thicker for this variation, to hold the liquidy yogurt. Also the garnish is a carrot julienne .
Use your imagination for this dish, and customize as per your taste. You can add mint/ herbs/ cumin to the yogurt to add some more flavor.
Stay Cool As a Cuke!
(Visited 44 times, 1 visits today)