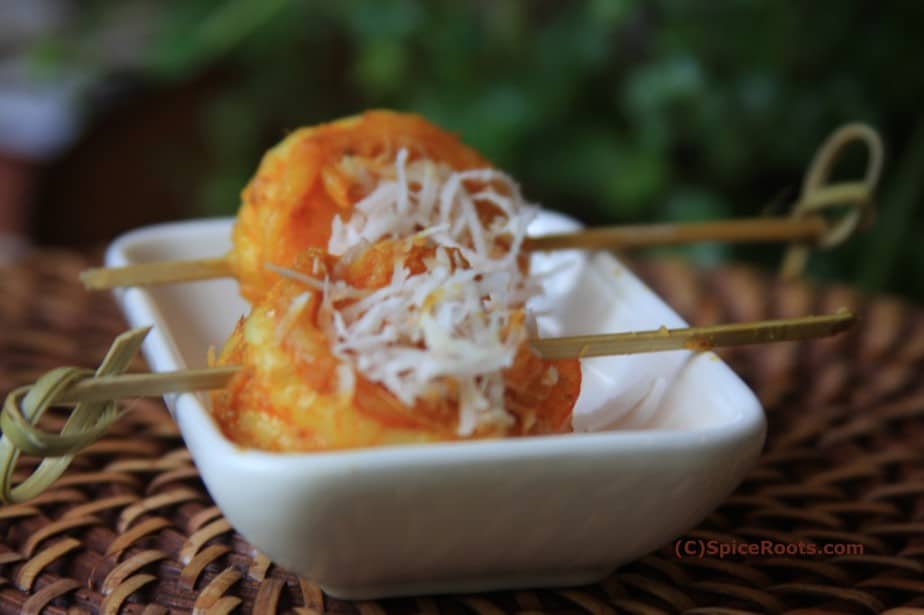 We already know about my love for sea-food. I can eat it without getting bored of it. Shell fish like the shrimp, are in fact so quick to make that it is one of my go to ingredients when someone drops by and stays back for dinner. This scrumptious shrimp is an easy coconut shrimp dish  and one where you do not have to follow a recipe. Put things in together and voilà  !
Plan:
1                              pound shrimp
1 Tbs                      chopped garlic [use more if you like]
2 Tbs                      prawn (shrimp) paste (available at Asian stores)
2 Tbs                      chopped lemon grass
¼ Tsp                     turmeric powder
½ tsp                     chilli Powder
½ tsp                     chilli flakes (optional – this is for more heat)
1 Tbs                      vinegar [white or rice]
2 – 3 Tbs               freshly Grated coconut (optional)
1 Tbs                      extra virgin coconut oil/ any other cooking oil
Salt                         to taste
A few bamboo skewers
Procedure:
Peel and devein the shrimp. here is how
Add turmeric, chilli powder and a bit of salt to the shrimp and keep aside.
Heat a pan on medium heat. Once hot add the coconut oil.
Now add the garlic, stir and cook until fragrant. Add the shrimp paste, lemon grass and cook for a minute or so.
Add in the shrimp and cook for two minutes.
Finally add in the vinegar and the chilli flakes ( if using)  let the shrimp get coated thoroughly with all the ingredients.
Arrange on the skewers, garnish with the coconut.